Epos the Flame bird is the last Beast in Series 1, and she lives in The Stonewin Volcano, near Rokwin. Under the spell, Epos makes the Volcano erupt! To deafet Epos, Tom must remove a band around Epos's left ankle.
Epos' s card says-
Epos the flame bird protects the volcanic region in the east of Avantia. Under the evil Wizard Malvel's Spell, she hurls balls of fire and makes molten lava flow!
Epos is 457 years old, has a power level of 243, has a magic level of 192 and a fright factor of 92.
Epos also helps Tom destroy
Vipero
by lighting Vipero' s heads on fire.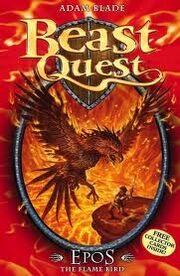 Ad blocker interference detected!
Wikia is a free-to-use site that makes money from advertising. We have a modified experience for viewers using ad blockers

Wikia is not accessible if you've made further modifications. Remove the custom ad blocker rule(s) and the page will load as expected.